CL-208-E
Remote TVOC/Temperature/Humidity/Dew Point Data Logger Module (RoHS)
Features
Remote TVOC/Temperature/Humidity/Dew Point Data Logger Module (RoHS). The CL-200 series of data logger devices can be used to record CO, CO2, NH3, H2S, HCHO, TVOC, temperature, humidity and dew point information, including the date and time stamps, and are able to store up to 450,000 downloadable records. Real-time data can be accessed from the CL-200 data logger from anywhere and at any time using the free Windows software, the Iso App, or the Android App, as long as they are connected to the same local network as the data logger. Support is provided for common industrial protocols such as DCON, Modbus RTU, and Modbus TCP, as well as the emerging machine to-machine (M2M)/)IoT (Internet of Things) connectivity protocol – MQTT. The CL-200 data logger can be connected via widely used communication interfaces including RS-485, Ethernet and PoE, meaning that the device can be easily integrated into existing HMI or SCADA systems, ensuring trouble-free maintenance in distributed control systems.
Able to record CO, CO2, H2S, NH3, HCHO, TVOC, Temperature, Humidity and Dew Point Measurements
Non-dispersive Infrared (NDIR) CO2 Sensor
HCHO : Electrochemical Sensor
VCO : Metal-Oxide Sensor
Up to 450,000 records with date and time stamps
Simple and Powerful Software Utility, iOS APP and Android App Included
Supports the DCON, Modbus RTU/TCP, and MQTT Protocols
Includes RS-485/Ethernet Communication Interfaces
Relay Output for Alarm or IAQ Device Control
Ceiling Mounting or Wall Mounting
Supports the MQTT Protocol for IoT Applications


Multi-platform Remote Access Software

Real-time data from the CL-200 data logger can be accessed from anywhere and at any time using the DL300 Utility, the iOS or Android App, or via a regular web browser, as long as they are connected to the same local network as the data logger
Simple and Powerful DL-300 Utility
| | | |
| --- | --- | --- |
| The DL-300 Utility is a powerful tool that is designed for confi guring the modules, monitoring real-time data, grouping DL-300 and CL-200 modules to view and manage the status of distribution groups, downloading log data, which can be exported to a CSV file that can then be imported into any industry-standard software or spreadsheet for analysis. | | |
Applications
Transportation of Food or Pharmaceuticals
Food and Beverage Industry (HACCP)

Blood Stations and Pharmacies
Building and Energy Management

Warehouse Management
Museums, Archives and Galleries
Indoor or Underground Parking Lot Automatic Monitoring Solution
The air quality automation system for indoor or underground parking lot can use the CL-200 series modules to monitor the health and safity information, such as PM2.5, CO, CO2, temperature, humiditym, dew point, and more...

HCHO (Formaldehyde) / VOC Detector Automatic Solution
The HCHO/VOC detector provides an instantaneously warning of toxic formaldehyde, which can be found in a plywood factory, furniture factory and new interior remodelling house commonly.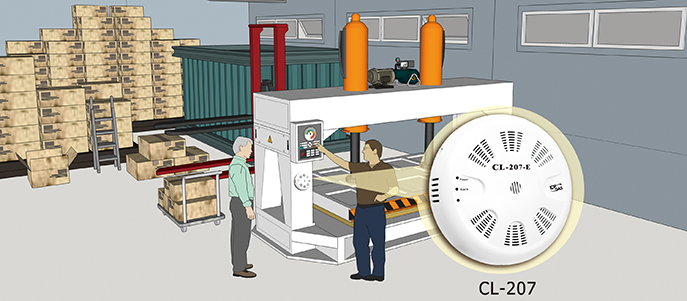 Specifications
Model
CL-201-E
CL-202-E
CL-203-E
CL-204-E
CL-205-E
CL-206-E
CL-207-E
CL-208-E
System
CO Alarm
Yes
-
Yes
-
CO2 Alarm
-
Yes
Yes
-
HCHO Alarm
-
Yes
-
Yes
-
TVOC Alarm
-
Yes
-
Yes
NH3 Alarm
-
Yes
-
H2S Alarm
-
Yes
-
RH/Temperature Alarm
Yes
Real Time Clock
Yes
Data Logger
Yes, up to 450,000 records
Relay Output
Form A×1, SPST
30 VDC @ 16 A or 250 VAC @ 16 A
Interface
RS-485/Ethernet
Electrical
Powered from Terminal Block
+12 to +48 VDC
Power Consumption
Non-PoE
1.5 W (Max.)
1.5 W (Max.)
1.6 W (Max.)
1.9 W (Max.)
1.6 W (Max.)
1.6 W (Max.)
1.9 W (Max.)
1.9 W (Max.)
PoE
1.6 W (Max.)
1.6 W (Max.)
1.7 W (Max.)
2.0 W (Max.)
1.7 W (Max.)
1.7 W (Max.)
2.0 W (Max.)
2.0 W (Max.)
Mechanical
Installation
Ceiling Mounting/Wall Mounting
Protection Class
IP20
Dimensions (D x H)
Ø 150 mm x 53 mm
Environment
Operating Temperature
0 to +50°C
Storage Temperature
-1 ppm
Humidity
10 to 90% RH, Non-condensing
Customer Reviews (0)
Be the first to leave a review.