eLogger
Selection Table
Show/Hide Selection Table
About eLogger
eLogger is an easy-to-use software to implement HMI, web GMI, and more on Windows PC for I/O monitoring and system control. The software is free for 30 tags in PC versions and 50 tags in PAC versions. The eLogger software develops projects with flexible I/O configuration that can be setup and completed in just 5 steps:
I/O configuration
Data logger configuration
Designing HMI layout & web pages
Uploading project's web pages to PAC or Windows PC
Execution of project
The eLogger software also provides "shared memory" to accommodate Visual Studio .NET, Win-GRAF and ISaGRAF programs.
Benefits & Features of eLogger
PAC Support

Driver Support : Modules on slot, supports Modbus RTU/ASCII devices, Modbus TCP master, and MQTT client
HMI: maximum of 32 pages
Web Page Converter: Supports browsers such as Google, Internet Explorer, Firefox, Safari, and Opera.
Real-Time Data Trend: Maximum of 5 trend line in one plot
Value Scaling: Scale analog values to another physical unit, example- rpm for rotation, kg for weight
Account Management: 3 levels of operating management- admin, power user, and user.

Remote Maintenance: Upload projects and web pages and to stop/run projects through Ethernet
Data Log: For local data log- supports cvs format file. For remote database- Microsoft SQL server 2005 or later on windows platform, and MySQL server
Logic Control Programming: Features "Shared Memory" where you can choose Win-GRAF, ISaGRAF, or Visual Studio.Net to develop a logic control program
Supports Modbus TCP Server: Read/write data by Modbus TCP protocol
Supports Runtime in Background Mode: eLogger runtime can run in background without designing HMI layout
elogger Software Architecture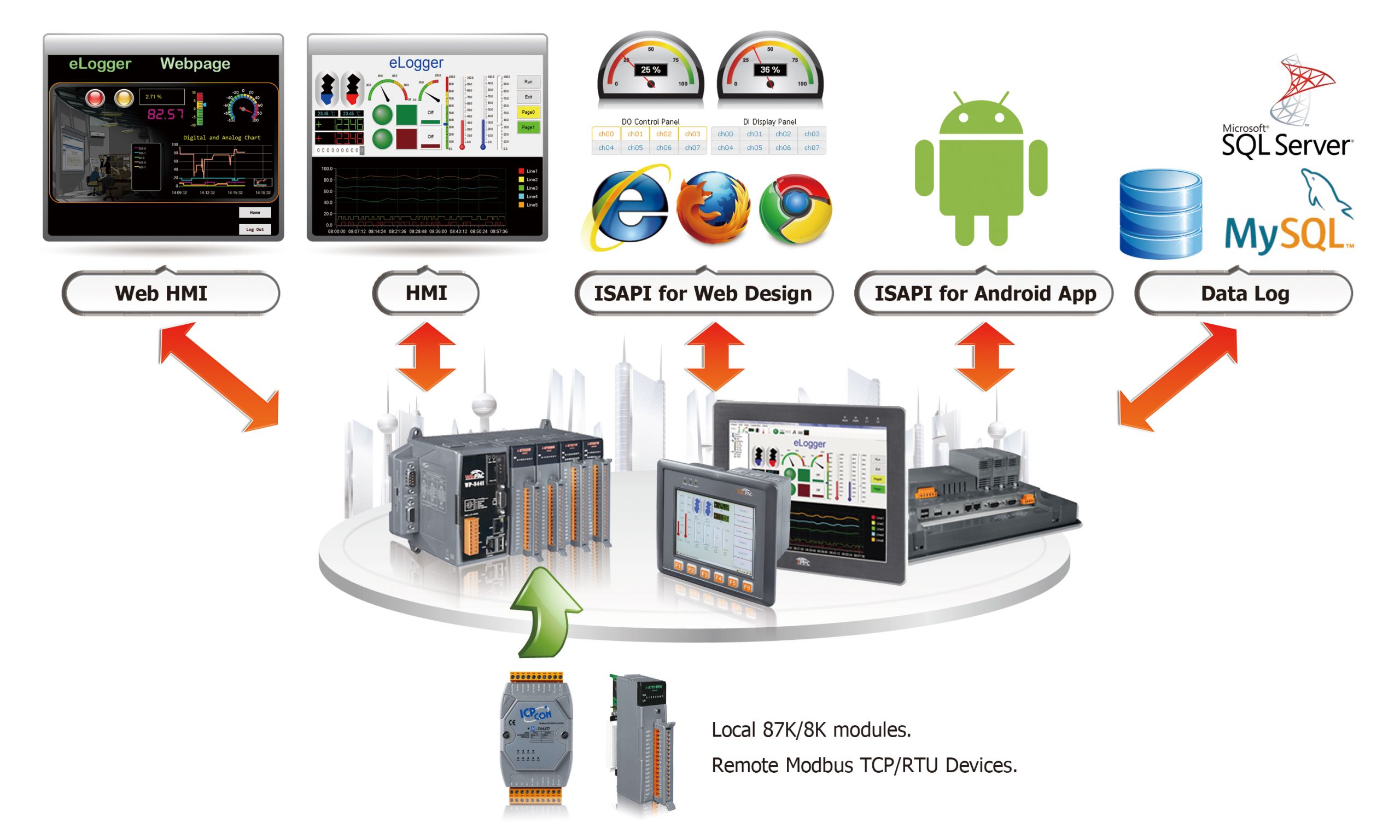 Show

items per page
Sort by
Displaying 1 - 9 of 9