SG-3011
Isolated Thermocouple Input Module with Optical Isolation. Provides voltage or current output.
References
Features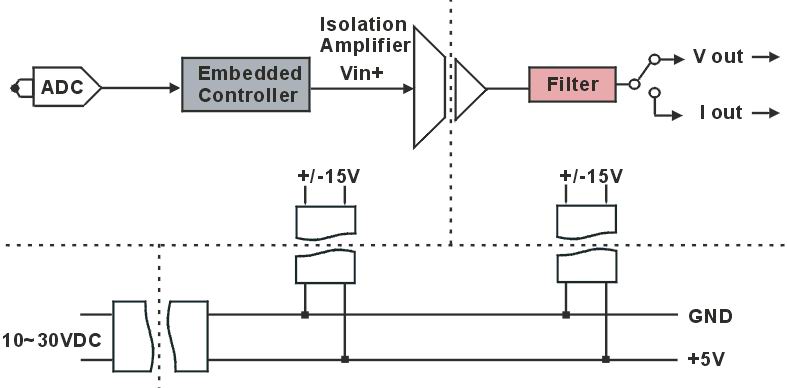 Internal I/O Structure
The SG-3011 is a thermocouple input signal conditioner. SG-3011 uses microprocessor-controlled high-resolution 24-bit dual-slope, integrating A/D converter to acquire thermocouple signal and cold junction compensation input. Temperature measurement is handled by thermocouple linearization and cold junction compensation function. The supported thermocouple types are J, K, T, E, R, S, B, N, C, L, M, L2 (DIN 43710).
Reference & Support
Specifications
Analog Input

Input Channels
1
Input Type
Thermocouple( Type J, K, T, E, R, S, B, N, C, L, M, L2)
Resolution
12-bit
Stability (temperature drift)  
±2°C
Accuracy
±0.2% of full range
Band Width
5.24Hz
Overload protection
240 Vrms
Normal Mode Rejection
100dB
Input Impedance
1.8M Ohms
Offset mode
CJC offset adjustable
OPEN Thermocouple detection
Yes
Isolation (three way)
1000 Vdc

Analog Output

Channels
1
Voltage Output
0~10V(Drive 10mA max.)
Current Output
0~20mA
Output impedance
<50Ω

LED Display

1 LED as Power/ Communication indicator

Power

Input
+10 to +30 Vdc
Power Consumption
1.44W

Environment

Operating temperature
-25°C to 75 °C
Storage temperature
-30°C to 75 °C
Humidity
5 to 95%, non-condensing
Themocouple Type
| | |
| --- | --- |
| Type | Temperature Range (°C) |
| J | -40 ~ +760 |
| K | 0 ~ +1000 |
| T | -100 ~ +400 |
| E | 0 ~ +1000 |
| R | +500 ~ +1750 |
| S | +500 ~ +1750 |
| B | +500 ~ +1800 |
| N | -100 ~ +1300 |
| C | 0 ~ +2000 |
| L | -200 ~ +800 |
| M | -200 ~ +100 |
| L2(DIN 43710) | -200 ~ +900 |
Related Products
---