W-8x47
ISaGRAF / Windows CE.net programmable automation controller, for embedded use. Available in 3 and 7 slot configurations. Has 2 USB ports and two 10/100M Ethernet ports.
Features
WinCON is being phased out. WinCON has been replaced by WinPAC. Click here for WinPAC product details.
The WinCON W-8x47 series takes full advantage of ICS Triplex's ISaGRAF IEC-1131 compatible development suite! With an ISaGRAF equipped WinCON, users can comfortably integrate programs developed in any one of the IEC-61131-3 based languages, including: Sequential function chart, Function block diagram, Structured text, Instruction list, Ladder diagram, and flow chart. ISaGRAF users also benefit from an extended suite of WinCON specific capabilities, enabled exclusively by the ISaGRAF run time!
Being one of the forerunners of PAC technology, ICP DAS proudly offers a multitude of powerful and flexible platforms for implementing programmable automation control technology into your existing industrial control infrastructure. ICP DAS has teamed up with our embedded partners, to ensure you that the Windows CE.net based W-8000 series of programmable automation controllers far exceeds anything else on the market today!
The ICP DAS W-8000 platform has several powerful software configurations, enabling users to maximize productivity, while maintaining the comfortable familiarity of industry standard communication protocols and operating systems. With longstanding relationships with both Microsoft and Red Hat Linux, W-8000 PAC users have the freedom to choose not only their standard operating environment, but also the added flexibility to dictate both their logic and HMI runtimes as well. Users benefit from such familiar development environments as: Microsoft Embedded Visual C++, Visual Basic .NET, and Visual C# to develop your applications. By offering comprehensive software, SDK, WinCon Utility and WinConOPC Sever utilities, development time is drastically reduced!
Inheriting almost all hardware features from W-8X3X, W-8X4X has the same user interface and OS features. The only difference between W-8X4X and W-8X3X is that W-8X4X adopts 2 USB ports and two 10/100M Ethernet ports instead of 2 PS2 jacks. In the left side connect the standard computer interface like 15 pin VGA port monitor (can support the touch screen as HMI device), two USB 1.1 ports, and two Ethernet ports (10/100Base-T). In the middle and right-side area, you can plug in the ICPDAS's I-8K and I-87K series I/O modules. The W-874X can plug in 7(max.) local I/O modules and W-834X for 3(max.) local I/O modules. There is no I/O slot for W-804X, so it can't plug in any local I/O modules. On the under lift side, The COM2 is a standard 5 wire RS232 com port. You can connect the standard RS232 device (modem …). The COM3 is standard RS485 port. You can connect to the RS485 devices like ICPDAS's products I-7K series I/O modules and I-87KX expansion unit.
Specifications
W-8041/8047/8049

W-8341/8347/8349

W-8741/8747/8749

Processor

Compatible with Intel Strong ARM CPU, 206MHz

Operating System

Windows CE.NET 4.1

Pre-load Software

Standard WinConSDK for W-8x41 (W-8041/8341/8741)
ISaGRAF Software for W-8x47 (W-8047/8347/8747)
InduSoft Software for W-8x49 (W-8049/8349/8749)

SDRAM

64M bytes

Flash

32M bytes

EEPROM

16K bytes

Expansion Slot

1 x Compact Flash type II insert with ejector

Interface

USB1.1 x 2
VGA port x 1

Ethernet Ports

10/100 BaseT x2

COM 2

9-pin D-Sub (RS-232)

COM 3

2-wire Terminal Block (RS-485)

Default Function

64-bit hardware unique serial number, Reset button, Power LEDs, Watchdog Timer, Real Time Clock

I/O Expansion Slot

0

3

7

Operating Temp.

-25°C to +75°C

Storage Temp.

-30°C to +85°C

Humidity

5 ~ 95%

Power Supply

20W, Unregulated +10Vdc to +30Vdc

Dimensions (LxHxD)(mm)

114 x 110 x 90

229 x 110 x 90

354 x 110 x 90

Application Implement separate networks to gain security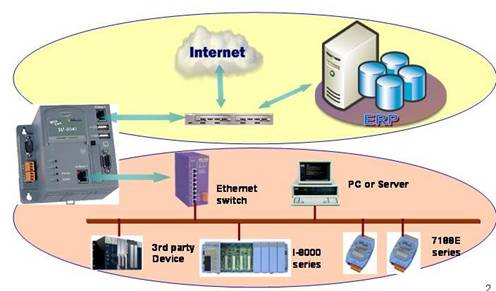 Implement network redundancy mechanism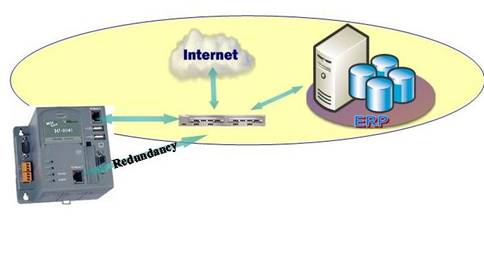 Related Products
---