uPAC-5001P
MiniOS7 based PoE C Language Programmable Ethernet uPAC with MicroSD Expansion Ability and 80 Mhz CPU, Communicates Over RS-232 and RS-485
Features
Introduction
The μPAC-5000 series is a palm-size programmable automation controller. It has a 80186 CPU, SRAM , Flash, Ethernet port, RS-232 and RS-485 port. With a DOS-like OS (MiniOS7) and a developed fi rmware running inside, it can act like a small PC.

ICP DAS provides easy-to-use software development tool kits (Xserver, MiniOS7 framework, VxComm, Modbus libraries). Users can use them to easily integrate serial devices to have Ethernet/Internet communication ability and through the standard Modbus protocol to communicate with SCADA software (Indusoft, ISaGARF, DasyLab, Trace Mode, Citect, iFix, etc.).

For hardware expansion, it also supports an I/O expansion bus. The I/O expansion bus can be used to implement various I/O functions such as D/I, D/O,A/D, D/A, Timer/Counter, UART, and other I/O functions. Nearly all kinds of I/O functions can be implemented by this bus. But the bus can support only one board. There are more than 10 boards available for μPAC-5000 series, you can choose one of them to expand hardware features.
Features
MiniOS7 Inside
C Language Programming

TCP/IP Library
Modbus Library


Various Storage Media

512 KB Flash
16 KB EEPROM
microSD
1 MB NVRAM
64 MB NAND Flash Disk
512 KB Battery Backup SRAM


Various Communication Interfaces

10/100 Base-TX Ethernet
RS-232/485

64-bit Hardware Serial Number
I/O Expansion Bus
Redundant Power Inputs
PoE (Power over Ethernet)
Operating Temperature: -25 ~ +75 °C
Applications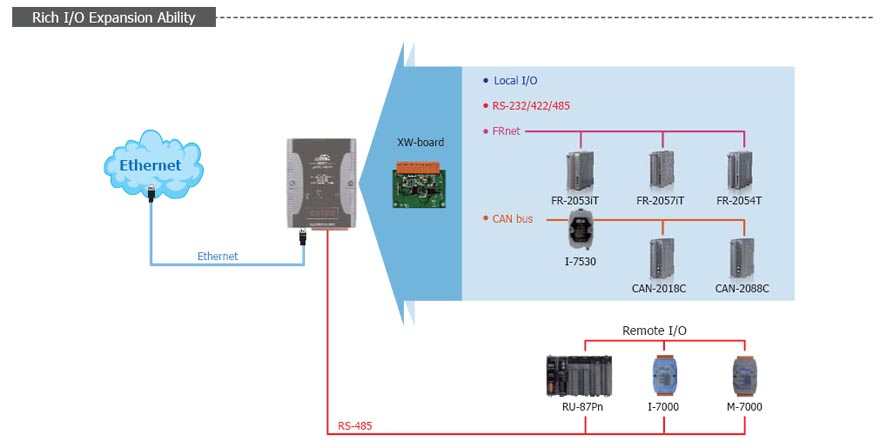 Specifications
Models

uPAC-5001P (D)

uPAC-5001P-FD (D)

uPAC-5002P (D)

uPAC-5002P-FD (D)

System Software

OS
MiniOS7 (DOS-like embedded operating system)
Program Download Interface
RS-232 (COM1) or Ethernet
Programming Language
C language
Compilers to create.exe Files
TC++ 1.01 (Freeware)
TC 2.01 (Freeware)
BC++3.1 ~ 5.2x
MSC 6.0
MSVC++ (before version 1.5.2)

CPU Module

CPU
80186 or compatible (16-bit and 80 MHz)
SRAM
512 KB
768 KB
Flash
512 KB; Erase unit is one sector (64 K bytes); 100,000 erase/write cycles
microSD Expansion
Yes, can support 1 or 2 GB microSD
64 MB NAND Flash Disk
-
Yes
-
Yes
1 MB NVRAM
-
512 KB Battery Backup SRAM
-
EEPROM
16 KB
NVRAM
31 Bytes (battery backup, data valid up to 5 year)
RTC (Real Time Clock)
RTC Provide seconds, minutes, hours, date of week/month; month and year, valid from 1980 to 2079
64-bit Hardware Serial Number
Yes
Watchdog Timers
Yes (0.8 second)

Communication Ports

Ethernet
RJ-45 x 1, 10/100 Base-TX (Auto-negotiating, Auto MDI/MDI-X, LED indicators)
COM 1
RS-232 (TxD, RxD, RTS, CTS, GND), non-isolated, Speed: 115200 bps max.
COM 2
RS-485 (D2+, D2-), self-tuner ASIC inside, non-isolated, Speed: 115200 bps max.

LED Indicator

Programmable LED Indicators
2

Hardware Expansion

I/O Expansion Bus
Yes

Mechanical

Dimensions (W x H x D)
91 mm x 123 mm x 52 mm
Installation
DIN-Rail

Environmental

Operating Temperature
-25 ~ +75 °C
Storage Temperature
-30 ~ +80 °C
Ambient Relative Humidity
10 ~ 90% RH (non-condensing)

Power

Protection
Power reverse polarity protection
Frame Ground
Yes (for ESD Protection)
Input Range
+12 ~ +48 VDC
Isloation
-
Redundant Power Inputs
Yes
Power over
Ethernet (PoE)
Regular version
-
PoE version
IEEE 802.3af Class 1
Power Consumption
2 W; 2.5 W for (D) version
Customer Reviews (0)
Be the first to leave a review.