Date: 2011-08-30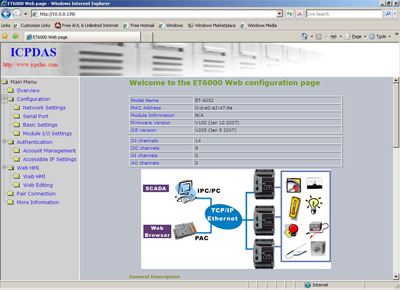 Here are 5 Ways You Can Remotely Access Your Applications:
The ability to remotely access data is very convenient. You can save yourself time by not having to go visit an application site if you do things like can check the status, close a valve, adjust temperature or turn lights off from a remote location. You can save money on travel expenses or on major repairs since you can also set your system up so you can get alarms via email or text message before any damage like a flood can occur.
1) You can access your applications via a Web Based SCADA System. With KingView Runtime and KingView Web Publishing running on a PC, you can remotely access your system via web browser. You can see the system just as if you were there at the PC. You can change the screens in the SCADA system; generate reports, trend curves, status like temperature or where your application is in a process. You can open or close valves or shut systems off.
2) A cellular router like IR711GS55 can bring you remote access to your systems. You can establish a Virtual Private Network with cellular routers and gain access to your PLC's via Ethernet, RS-232 or RS-485 port. Cellular routers provide practical management of your devices and reduce maintenance costs.
3) You can remotely access your applications via SMS Text message. GT-531 is an intelligent Modbus SMS / GSM Gateway for M2M applications. With it you can send and receive SMS messages between phones, a PC and your control system. You can send messages to up to 256 mobile phones. The content of the text messages can be changed through Modbus Protocol.
4) You can use a programmable automation controller like G-4500P-3GWA with a built in Tri-band 3G modem to easily gain remote access. You can write your program such that you can send and receive text messages and emails with your remote system to get status and make changes. G-4500P-3GWA also has GPS functions so you can use it on moving vehicles like trains and trucks and you can retrieve its GPS location.
5) You can use an Ethernet based Data Acquisition Module that supports Modbus TCP protocol like ET-7019 which has a web server inside for remote access. You can pull it up on a computer via web browser by its IP address. You can create users with passwords through the Web HMI. You can turn channels on or off with buttons in the web page. You can also see current, voltage or thermocouple input status. You can also easily use it with your SCADA software through Modbus TCP protocol.
For more information, please visit http://www.icpdas-usa.com
Maria Lemone, Technical Sales Engineer. ICP DAS USA, Inc. http://www.icpdas-usa.com 1-888-971-9888
ICP DAS is a manufacturer of Industrial Data Communication, Automation Control and Test and Measurement products; specializing in: PLC Hardware, Ethernet controllers, distributed I/O modules, Industrial Ethernet Switches, PCI and ISA boards, and much more!. We provide free technical support.