News & Updates

New products released: WinPAC-8447 / 8847 controller
(Supports the ISaGRAF version 3.4x / 3.5x)! WinPAC-8447 / 8847 controller (also called WP-8447/8847)
supports ISaGRAF software version 3.4x / 3.5x . User can use the SoftLogic language such as Ladder, Function block, ST, IL, SFC and FlowChart to design the application. The WinPAC-8x47 is about 99% compatible with the Wincon-8x47 / 8x37. It has better feature and better stability than the Wincon-8x47 / 8x37






Multi-COM Ports with Programmable Device Servers

There are generally a lot of general purpose devices to integrate with the central system in factories and offices. A card reader with an RS-232 interface is set outside of the door and far away from the central system. A device server enables the card reader to communicate with the central system by converting the serial RS-232 signal to Ethernet protocol. A PLC controlling lights, buttons and air conditioning call for multi-COM port connections. Through Ethernet, we can extend transmission distances. PDS also features programmability. Rooms can light up automatically just as someone is about to eneter. PDS and DS are great serial to Ethernet solutions. DS-712 is equipped with RS-485 and ethernet ports. PDS-742-IP67 is waterproof and dustproof. PDS-782-258 is designed for easy wiring. PDS-775 is equipped with 7 RS-485 COM ports at one time.

Hydrologic Data Acquisition
Our
G-4500
Mini Programmable Automation controller is Widely used in geography information systems, especially in hydrologic data acquisition. Our ICP DAS G-4500 series PACs play perfect roles everywhere.
With
G-4500
PACs installed, hydrologic data gathering stations are established along the river. The hydrologic data, such as temperature or flow rate, are captured by the sensors in the water.
After the
G-4500s
receive the data from the sensors, it sends the data to the central control PC via GPRS. The GPS feature shows the position of all the captured data. The data will be shown in control center. Irregular data will include warnings in order to reduce loss caused by disasters. Our
G-4500
series is the best choice for Geographical Information Systems.
Click here
to see the ICP DAS Hydrologic Data Acquisition Video.

Traceability System with Zigbee Communication

Chickens in coops randomly step on scales while walking around. An RFID tag has been put on their feet. The chickens weight and RFID tag information is logged. The information is sent wirelessly to a computer using
zigbee
technology. The control center is located on the other side of the chicken coop and is equipped with
zigbee converters
for data acquisition. Programmable device servers are used to gather data from a bunch of zigbee converters. The latest profile of chickens can be pulled up on computers. The effective distance of the
zigbee
network is 200 meters. Whenever an obstacle is presented, data can pass it with the
zigbee
network. Up to 65,535 nodes are allowed into a
zigbee
network.
Zigbee
converters are suitable for wireless transmission and industrial control.

EZ Data Logger 3.0.0 Released
Click Here to Download

Includes a new simulation feature! Users can write their own control logic (VB Script).



Many new components have been added to the layout page. Virtual Channels can be modified to average several Analog Input channels.


W-8x47 & uPAC-7186EG Supports CAN / CANopen Devices and Sensors
ISaGRAF PAC supports CAN / CANopen Devices and Sensors since their driver supports I-7530: RS-232 to CAN Converter to link CAN devices and CAN sensors or CANopen devices or CAN open sensors.
W-8347 / W-8747 : since driver version 3.43 (2008.Feb), or later version.
uPAC-7186EG : since its release (around March 2008).
iPAC-8437 / iPAC-8837 : since its release (around Q3 2008).
(ISaGRAF PAC driver: http://www.icpdas.com/products/PAC/i-8000/isagraf.htm > Driver )
Advantages:
Cost effective CAN solution, supports both of the CAN 2.0A and 2.0B specifications.
Provides with proper sample programs. All above three PACs support ISaGRAF version 3 software to easy edit, easy design and debug (ISaGAF supports six PLC-like languages: Ladder, FBD, ST, IL, SFC and Flow Chart and supports on-line monitoring , control and debugging)
Each ISaGRAF PAC can connect one or several i-7530 to link many kinds of CAN and CANopen devices and sensors.
When linking with CAN devices, the ISaGRAF PAC can also integrate its some other functions and applications together. For example, the Hot-Swap RU-87P4/8 base plus I-87K high-profile I/O cards , Modbus RTU (RS-232/485/422) devices, linking other RS-232/485/422 devices, Data Logger, sending email with one attached data file, etc.
Please visit the following web sites for more information.
FAQ : www.icpdas.com > FAQ > Software > ISaGRAF > 086
Datasheet : http://www.icpdas.com/products/PAC/i-8000/data%20sheet/data%20sheet.htm
i-7530 : http://www.icpdas.com/products/Remote_IO/can_bus/i-7530.htm
Update I-7540D Utility (Ver 1.0.3)
Updated I -7540D firmware (Ver 1.0.5):
I-7540D Firmware ECAN_105.exe

Web ID/Password checking function added
Four commands for setting/getting Web ID and password added
For more information, please refer to
http://www.icpdas.com/products/Remote_IO/can_bus/i-7540.htm



Easy way to program the fast FRNET remote I/O modules
The FRNET is fast remote I/O. The W-8xx7 and the I-8477 / 8877 support FRnet fast remote I/O. Please visit the web site below for more information:
http://www.icpdas.com/faq/isagraf.htm > 082 or www.icpdas.com > FAQ > Software > ISaGRAF > 082
The I/O scan time of the FRNET bus is about 3 ms . (This depends on your program's PLC scan time. For example, if the ISaGRAF PLC program scan time is about 9 ms, then the scan time for all FRNET I/O channels will be 9 ms, not 3 ms. Below is the approximate PLC scan time of an ISaGRAF project which runs only the FRNET setup code (without other codes) . It is more than 20 times faster compared with the i-7000 and i-87K RS-485 digital remote I/O.
One i-8172 FRNET master card can connect max. 256-ch D/I plus 256-ch D/O .
With 1
I-8172

With 2
I-8172

With 3
I-8172

With 4
I-8172

With 5 - 7
I-8172

W-8xx7/8xx6

3 ms

4 ms

4 ms

4 ms

5 ms

I-8477/8877

3 ms

6 ms

9 ms

12 ms

-



InduSoft DCON Bundle Driver v1.34 Released
InduSoft DCON Bundle Driver v1.34 is released.

New Features for InduSoft DCON Bundle Driver v1.34

Supports New I/O Modules : 7005, I-87018Z ( 10 channel )
Broken Line Detection: Support AI modules "Broken Line Detection" function. It means that if any one channel of AI modules break down, then its corresponding "AI Tag" in indusoft will show「9999」or「-9999」.
Gets Modules Communication Status: Users can fill one "Integer Tag" in the "Read Status" field of indusoft driver form, then the AI Tag will receive the communication status value automatically when indusoft project runs. If the return value is "0", it means module communication is good, others will be bad.




Wincon-8xx7 can send email with an attached file
Wincon-8437/8747 and Wincon-8037/8337/8737 can send email via its Ethernet port since its ISaGRAF driver version 3.38. The Wincon must reside at a local network which can connect to the Internet, or sending email is not possible.
Controller ISaGRAF driver: http://www.icpdas.com/products/PAC/i-8000/isagraf-link.htm
Demo program: www.icpdas.com – FAQ – Software – ISaGRAF - 067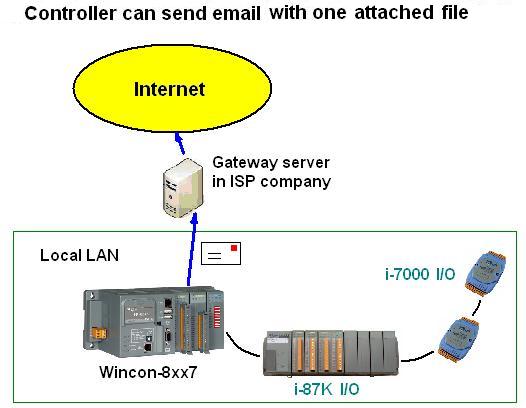 Basic functions:
The Email being sent has option to attach a file. The attached file format can be text, binary or any file format. Its maximum size is 2 MB.
Email Titles can be 128 bytes maximum. Email content can be 510 bytes maximum.
One email can be sent to 10 receivers at one time. Must send multiple times if more receivers are desired.
Each email can be assigned priorities: High, Low or Normal.
Assign at least one Mail server IP in the ISaGRAF program. For safety, assign two Mail servers IP. If one Mail server is out of service, Wincon-8xx7 will send email by the other server.
If using Wincon-8347 / 8747 (dual LAN) and both LAN ports are enabled, Wincon-8xx7 will automatically switch to the other Ethernet port to send email if one is broken or damaged.


Two useful ISaGRAF Application Samples Released: "Auto Time-Synchronization system" and "Auto email sending with one attached I/O-Acquisition-File System"

Use Time Synchronization and monitor the state of many ISaGRAF PACs

Please visit http://www.icpdas.com/faq/isagraf.htm FAQ-070 for more information.

This sample uses one PC to receive UDP report data from many ISAGRAF PACs. The PC can send time synchronization commands to the ISAGRAF PACs if it is necessary.

This sample demo one PC to link to two ISaGRAF PAC (can be any of W-8xx7, i-8x37, iPAC-8447 / 8847 or i-7188EG) in a local Ethernet area.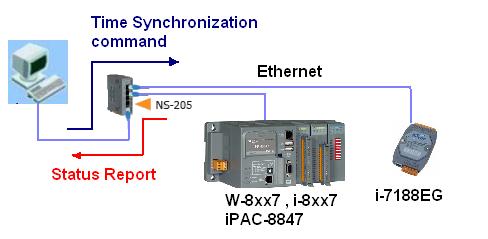 If this sample is applied to the Internet, the PC must be set to a fixed Internet IP Address. Also, each ISaGRAF PAC in different local areas should be able to connect to the Internet (Normally through the Gateway Server of the ISP company) .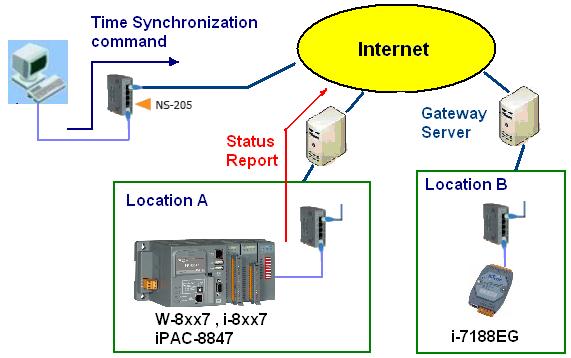 Record 10 Ch. Temperature values into a file in W-8xx7 every minute. When 24 hours of recording is finished, file can be sent via emial Every Day.


Please visit
http://www.icpdas.com/faq/isagraf.htm
FAQ-071 for more information.
This sample uses one Wincon-8xx7 + slot 2: i-87018z to record 10-Ch. Temperature values every minute. It sends an email with the attached record file after the 24-hour recording is finished. The email is sent at around 00:00 to 00:01 every day.
This sample applies one PC to monitor the communication state of each ISaGRAF PAC in a different place and also does time synchronization. (PC / Server is not necessary if only receiving email is desired)
The PC can reside at the same local ethernet area as the W-8xx7 controller.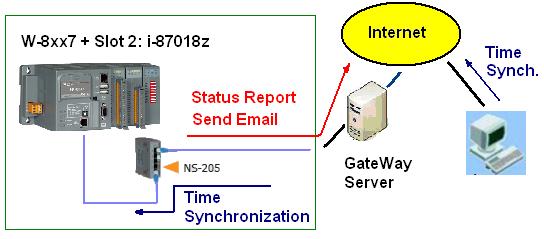 New Hot-Swap And Redundant Solution For The Wincon-8347 / 8747

To meet requirements of tough industrial applications, ICP DAS released the New Hot-Swa redundant solution for Wincon-8347 / 8747. This redundant system has set up two "Active IP" address points to the active W-8x47's LAN1 and LAN2 ports. One or more PC / HMI / SCADA systems can communicate with this redundant system via one of the two given active IP's. The PC / HMI / SCADA has access to the system with out any notice, on which W-8x47 is currently active. The new redundant system can intergrate with the RU-87P4 and RU-87P8 expansion unit plus the I-87K high-profile I/O cards to support the hot-swap application. If any I/O card is damaged, exchange a good-card with same model name to hot-swap the damaged one without stopping the redundant system.

The system contains two Wincon-8347 or two Wincon-8747, plus two NS-205 / NS-208 (Industrial Ethernet Switch), and at least one RU-87P4 or RU-87P8 expansion base plus at least one I-87K high-profile I/O card. One W-8x47 is named as "Main" PAC, the other is called the "Backup" PAC. The Main PAC takes the control in normal case and its LAN1 and LAN2 IP are automatically changed to the Active_IP1 and Active_IP2. If it is damaged, the Backup PAC will take the control and also change to the Active_IP1 and Active_IP2 automatically. So the PC / HMI don't care about which one is active, and just connects continously.
Controller is redundant
Ethernet is redundant
I/O is Hot-Swappable



This redundant system can also integrate with the Touch HMI as the following figure:




Back to Top