iSN-101/S3
1-channel Liquid Leak Detection Module (with an ASO-0045 Leakage Probe)
References
Features
Liquid leak detection
Leak detection triggers an audible alarm
A mute button to silence the alarm
Two LED indicators to display the status of the power and the alarm
A configurable relay output
Leader cables and sensor cable can be up to 500 meters
Adjustable detection sensitivity
Supports DCON and Modbus RTU protocols
Embedded Dual Watchdog
Wide Operating Temperature Range: -25 to +75°C
Tiny form factor with easy screw mounting (DIN mount versions are available)
Introduction
The iSN-101 series Liquid Leak Detection Module is a low-cost, intelligent liquid leak detection device that can be used to directly control Relay Output. No additional conversion module is needed and the iSN-101 can be easily integrated with a variety of monitoring systems to achieve remote alarm and remote device control. The iSN-101 Liquid Leak Detection module can be used to monitor double-core leader cable, with lengths of up to 500 meters, and can be used with both the sensor cable and its included water leakage probe (S3 modules include probe, otherwise sold separately) . If liquid is detected, the controller immediately activates the output relay - the normally open, normally closed passive output signal. The module can be easily integrated with other collection hosts connected to the network. The iSN-101 is suitable for real-time leak detection in critical locations, such as computer room base stations, warehouses, libraries, museums and industrial sites, and also for air handling equipment, refrigeration units, liquid containers, or pump tanks, etc., where there is a need to monitor any leakage of the equipment.
Applications
The iSN-101 is a leakage detection module used in water pipe leak monitoring in buildings with two working modes.
Works with the water sense cable, installed near a possibly leaking pipe or area to detect leakage with the alarm.
Works with the water leakage probe, installed in a fixed location where a leak is possible.
A leakage monitoring system can be applied to the water pipes, fire pipes, and sewage pipes of buildings, which can save water and esnure safety. The iSN-101 can detect leakages, send out signals and alarms, and can be combined with the WISE IoT Edge Controller or TPD/VPD Touch HMI, to further integrate with the data acquisition and control system.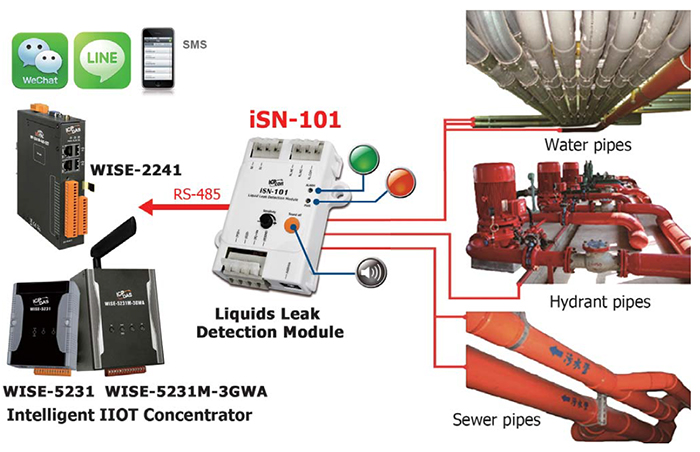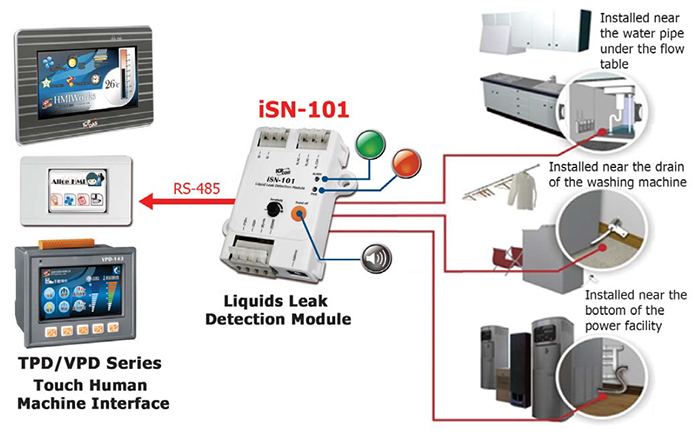 Specifications
I/O Specifications
Wiring Cables Length
500 meters (inlcuding sensor cable)
Sound Off button
Button used to stop the audible alarm
Adjustment of Detection Sensitivity
25 KΩ ˜ 580KΩ
System Specifications
Format
N,8,1 / O,8,1 / E,8,1 / N,8,2
Baud Rate
Software Configuration: 1200 ˜ 115200 bps
Protocol
Modbus RTU or DCON
Node Addresses
96 ˜ 127 for hardware configuration 0 ˜ 255 for software configuration
LED indicators
1 as Power Indicator, 1 as Alarm Indicator
FORM C Relay
0.5A @ 125 Vac, 2 A @ 30 Vdc
ESD (IEC 61000-4-2)
±8kV Air for Random Point
EFT (IEC 61000-4-4)
±4kV for Power
Reverse Polarity Protection
Yes
Input Voltage Range
10 to 30 Vdc
Dimensions (W x L x H)
83 mm x 70 mm x 29 mm
Installation
DIN-Rail (DIN version modules) or Screw Mounted (standard modules)
Operating Termperature
-25 to +75°C
Storage Temperature
-30 to +80°C
Humidity
10 to 90% RH, non-condensing
Ordering Information
iSN-101
1-channel Liquid Leak Detection Module (ROHS)
iSN-101/DIN
1-channel Liquid Leak Detection Module (DIN-rail mount) (ROHS)
iSN-101/S
iSN-101/S/DIN
1 channel Liquid Leak Detection Module (ROHS)
Includes an iSN-101 module, a 1m Liquid leak detection cable and 3m extended cable. (DIN or Screw Mount)
iSN-101/S2
iSN-101/S2/DIN
1-channel Liquid Leak Detection Module (RoHS)
Includes an iSN-101 Module, a 3m Liquid Leak Detection Cable and 3m Extended Cable. (DIN or Screw Mount)
iSN-101/S3
iSN-101/S3/DIN
1-channel Liquid Leak Detection Module (RoHS)
Includes an iSN-101 Module and a Leakage Probe. (DIN or Screw Mount)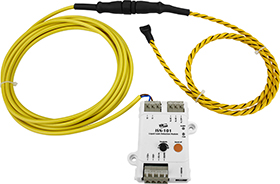 iSN-101/S CR = iSN-101 + CA-LLD-DC100-L010 + CA-LLD-EC-L030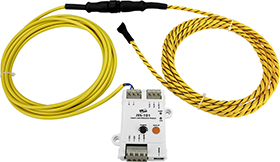 iSN-101/S2 CR = iSN-101 + CA-LLD-DC100-L030 + CA-LLD-EC-L030
iSN-101/S3 CR = iSN-101 + CA-LLD-DP100
Related Products
---