No documentation or manuals for this item.
Features
I-8093W is a 3-axis high speed encoder module. Its each axis can be independently configured as one of Quadrant, Pulse/Direction or CW/CCW input mode. The maximum input rate for Quadrant mode is 1 MHz, and for Pulse/Direction and CW/CCW modes is 4 MHz.
The high-end specifications of I-8093W and complete software support make it ideal for wide range applications in position measurement of motion systems for industrial and laboratory environment.
3-axis encoder inputs
1MHz input rate for quadrant input mode
4MHz input rate for pulse/direction and cw/ccw input modes
32-bit count range
2500Vrms Optical isolation
Applications:

Motion system position measurement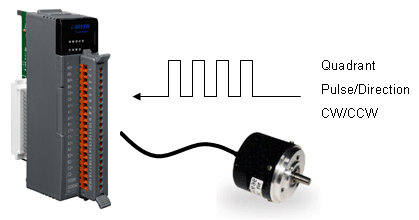 Specifications
Encoder Input

Input Axis
3-axis
Encoder counter
32-bit
Counting Mode
1. Quadrant Counting
2. CW/CCW
3. Pulse/Dir
Maximum counting rate
1. Quadrant Counting : 1MHz
2. CW/CCW : 4MHz
3. Pulse/Dir : 4MHz
Intra-module isolation, Field to Logic
2500 Vrms
4KV ESD Protection
Contact for each channel

LED Display

1 LED as Power Indicator /9 LED as Status Indicator

Power

Power Consumption
2W Max

Environment

Operating Temperature
-25 ~ 75°C
Storage Temperature
-30 ~ 85°C
Humidity
5 to 95% RH, Non-condensing

Dimensions

30mm x 102mm x 115mm (W x L x H) Detail
References and Support
No documentation or manuals for this item.
Customer Reviews (0)
Be the first to leave a review.