I-7547
Ethernet To HART Converter. Supports operating temperatures from -25°C ~ +75°C. Allow users to access HART devices through a PC's virtual COM port. Formerly GW-7547.
Features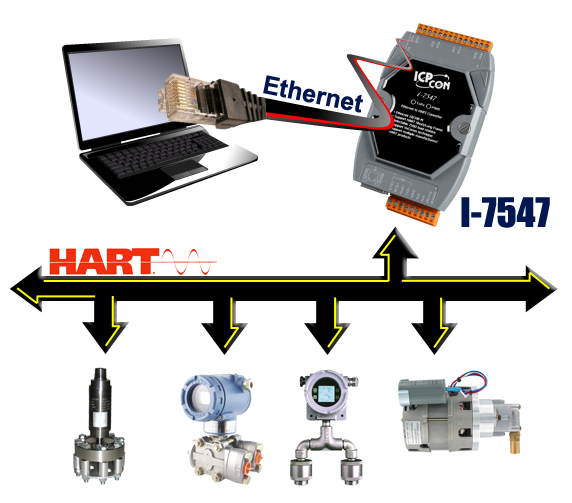 The GW-7547 (formerly I-7547) is an Ethernet to HART converter specially designed as the master device of HART protocol. When connecting GW-7547 to PC via Ethernet and install the VxComm utility, it will allow users to access the HART devices via virtual COM-port of PC. Therefore, users can make data collection and processing of HART network easier and quicker by applying GW-7547. In addition, we also provide the free HC_Tool utility for module configuration and HART communication test easily.
The HART (Highway Addressable Remote Transducer) protocol uses the Bell 202 Frequency Shift Keying (FSK) standard to superimpose digital communication signals on the 4-20 mA loop current shown as below figure. HART communicates at 1200 bps without interrupting and interference with the 4-20mA signal and allows a host application (master) to send/receive digital information from a smart field device. The 4-20mA signal communicates the primary measured value - the fastest and most reliable industry standard. The digital signal can be used for additional device information including device status, diagnostics, additional measured or calculated values, etc. Therefore, the HART communication including analog and digital information provides a low-cost and very robust complete field communication solution that is easy to use and configure. HART is a master/slave protocol which provides for up to two masters (primary and secondary) and the secondary master such as handheld can be used to monitor/control the informatoin of HART bus. HART can be used in various modes such as point-to-point or multi-drop for communicating information to/from smart field instruments and central control or monitoring systems. The following are the description of two main HART operation modes.
Relatively easy to understand and use, the HART protocol provides access to the wealth of additional information (variables, diagnostics, calibration, etc.)
HART is a no risk solution for enhanced field communication
Compatibility with standard 4-20mA wiring
Simultaneous transmission of digital data
Risk reduction through a highly accurate and robust protocol
Increase Plant Availability
Reduce Maintenance Costs
Improve regulatory compliance
Applications
Current Measuring
Petrochemical Industry Application
Environment Monitoring
Tunnel Monitoring
Monitor system
Building Monitoring


Features
Support HART Short/Long frame
Support HART Burst mode
Support point-to-point or multi-drop HART mode
Support connecting up to 15 HART slave devices
Allow two HART masters
Provide HC_Tool utility for module configuration and HART communication
Support firmware update via Ethernet
Provide PWR / TxRx indication LED
4KV ESD Protection
Built-in Watchdog
Selectable 250Ω load resistor
Provide four HART channels
Support VxComm technique
Built-In Web Server for network setting
Support FDT (Field Device Tool) technique and the below FDT software have been tested OK
(1) PACTware (PACTware)
(Free download: http://www.pactware.com/en/products/pactware.html)

(2) FieldCare (Endress+Hauser)
(Download: http://portal.endress.com/wa010/FieldCareDownloadGui/)

(3) PDM (Seimens)
(Download: http://support.automation.siemens.com/cn/llisapi.dll?func=cslib.csinfo&objid=35125986&lang=en&siteid=cseus&aktprim=0&objaction=csopen&extranet=standard&viewreg=CN)

Utility
Search all HART devices automatically
Provide HART Universal & Common-Practice command (v6.0) for HART device configuration
Provide module configuration and HART communication easily and quickly
Provide data logging for HART communication
Specifications
Ethernet Interface

Ethernet Port
10/100 Base-TX with Auto MDI/MDI-X
Virtual COM
Yes (VxComm Utility)
Built-In Web Server
Yes

HART Interface

Channel
4
Connector
2-pin screwed terminal block for each HART port
Terminator Resistor
Selectable 250 Ω terminal resistor for each HART port
4KV ESD Protection
Yes, Contact for each terminal
Isolation Voltage
500 VDC

LED

LED Display
PWR : Power Indicator 
TxRx : Data Received from Ethernet / HART Indicator

Power

Power supply
Unregulated +10 ~ +30 VDC
Protection
Power reverse polarity protection, Over-voltage brown-out protection
Power Consumption
Maximum : 1.5W

Mechanism

Installation
DIN-Rail or Wall Mounting
Dimensions
123 mm x 72 mm x 35 mm (H x W x D)

Environment

Operating Temp.
-25 ℃ ~ +75 ℃ (-13 to 167 ℉)
Storage Temp.
-30 ℃ ~ +80 ℃ (-22 to 176 ℉)
Humidity
5% ~ 95% RH, non-condensing
Customer Reviews (0)
Be the first to leave a review.