I-7242D
- DeviceNet to Modbus RTU Gateway
DeviceNet to Modbus RTU Gateway. Supports operating temperatures between -25 to 75°C.
Features
The I-7242D DeviceNet to Modbus RTU Gateway is a CAN bus product. The device allows a master located on a DeviceNet network to communicate with the slaves on a Modbus RTU network It is a Group 2 Only Slave device in the DeviceNet network. It supports "Predefined Master/Slave Connection Set."
It is a general protocol converter operating in a way that is transparent to the user. We also provide the utility software for users to configure the I-7242D,s parameters and build the EDS file. Users can easily apply Modbus RTU devices in DeviceNet applications with the I-7242D.
Applications
Control Systems
Building Automation
Factory Automation
Distributed Data Acquisition

DeviceNet Features
Group two only server DeviceNet subscriber
Dynamic Assembly Objects Mapping
On-line change baud rate and MAC ID of CAN
NS, MS and IO LED indicators
7-segmemt LED to show operation mode, MAC ID, baud rate and error code
Connection supported:

"Explicit Connection"
"Polled Command/Response" connection
"Bit-Strobed Command/Response" connection
"Change-of-State/Cyclic" connection

Configuration facilitated by the use of specific EDS files
Dedicated Explicit message interface for full Modbus interface
Modbus RTU Features
Maximum number of subscribers: 10 Modbus slaves
Communication speed:

1200, 2400, 4800, 9600, 19200, 38400, 57600 or 115200 bits/s
Configured Using Utility

Data bits: 8 bits, Configured Using Utility
Parity bits: None, even or odd, Configured Using Utility
Stop bits: 1 or 2 bits, Configured Using Utility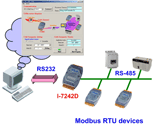 I-7242D Utility
Support DeviceNet node ID, baud rate setting
Support Modbus RTU parameters setting
Show Modbus RTU devices configuration
Show DeviceNet application and assembly objects configuration
Support DeviceNet Polling, Bit-Strobe and COS/Cyclic Produced and Consumed connection path setting
Dynamicly produces EDS file
How to use DNS_MRU gateway:

| | | |
| --- | --- | --- |
| Code | Name | Description |
| 01 (0x01) | Read Coil Status | Read the ON/OFF status of discrete outputs in the slave |
| 02 (0x02) | Read Input Status | Read the ON/OFF status of discrete inputs in the slave |
| 03 (0x03) | Read Holding Registers | Read the binary contents of holding registers in the slaves |
| 04 (0x04) | Read Input Registers | Read the binary contents of input registers in the slaves |
| 15 (0x0F) | Force Multi Coils | Forces each coil in a sequence of coils to either ON or OFF |
| 16 (0x10) | Preset Multi Registers | Preset value into a sequence of holding registers |
Specifications
| | |
| --- | --- |
| Model | |
| CPU | |
| Flash | |
| SRAM | |
| EERROM | 2K bytes (Can up to 128K bytes or change to 2K/8K FRAM) |
| NVRAM | |
| Real Time Clock | |
| Watch Dog Timer | |
| COM1 | RS232: TXD, RXD, RTS, CTS, GND |
| COM2 | |
| Communication Speed | |
| CAN Controller | Phillip SJA1000T CAN Controller |
| CAN Transceiver | Phillip 82C250/251CAN Transceiver |
| LED Directors | |
| Display | 7-Segment LED: 5digit |
| Isolated | |
| Power Supply | 3.9W unregulated +10VDC to +30Vdc |
| Operating Temp | |
| Storage Temp | |
| Humidity | |
| Dimensions | 133mm x 72mm x 33 mm |
Related Products
---