G-4500P-2G
Quad-band M2M Mini-Programmable Automation Controller with GPRS/GPS function, communicable over RS-232, RS-485, supports Modbus RTU. Supports operating temperatures from -15 ~ +55°C
Features
The Quad-band G-4500 series provided by ICP DAS are M2M (Machine to Machine) mini programmable controller are widely recommended in the market. They are widely applied in various applications like hydrographic monitoring, intelligent power, flow meter report system and GPS car-tracking system. ICP DAS announces the Quad-band G-4500 series to meet the requirements of more customers. Most GSM networks operate in the 900 MHz or 1800 MHz bands. Some countries in the Americas (including Canada and the United States) use the 850 MHz and 1900 MHz bands because the 900 and 1800 MHz frequency bands were already allocated. However, Quad-band G-4500-2G series is supporting GSM 850/900/1800/1900 MHz more than tri-band G-4500-SIM300 series. They can be achieved that roam the world's GSM system. In addition, ICP DAS also introduces the Quad-band G-4500 Series of plastic casing.
The G-4500-2G series feature GPRS/GSM module, Ethernet interface, optional GPS module, 3 digital inputs, 3 digital outputs, 8 analog inputs, 2 RS-232 and 1 RS-485 port. That can be used in various application fields to transfer data by GPRS, SMS, Ethernet or serial bus. In traditional application, users need a master controller to integrate a GPRS/GSM modem with developing GPRS or SMS programs into the host. That would waste much time to integrate the various communication interfaces. Now, we have G-4500 series to solve the hardware integration problems with easy-to-used libraries. The G-4500 series built-in MiniOS7 provide the same development environment with I-7188/I-7186 series. It is more easy for I-7188/I-7186 users to apply the G-4500 series.
By using G-4500 series, a machine can be installed virtually anywhere but still be connected to a support centre to signal performance or need for service. M2M data will improve the service quality and reduce operating costs. Many application areas can be improved by using GD-4500-2G.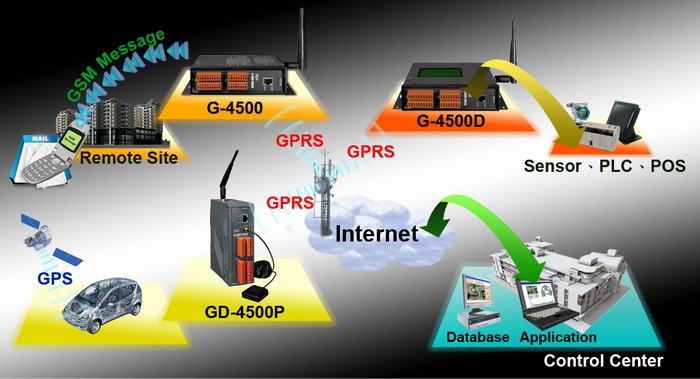 Applications
Application 1 : Remote Control/Monitor System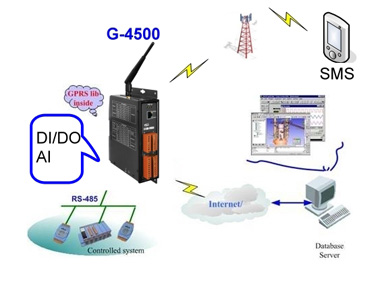 Application 2: Car Monitor System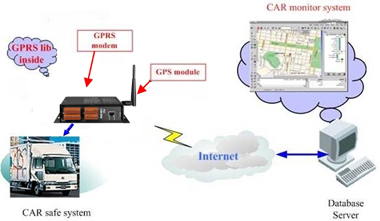 Application 3: GIS system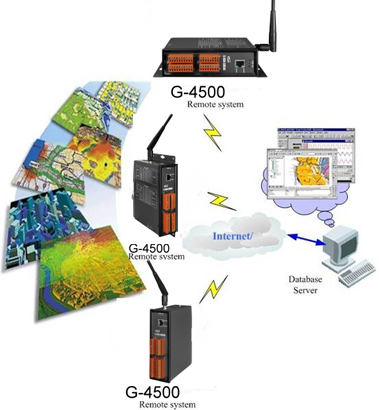 Application 4: Redundant Communication System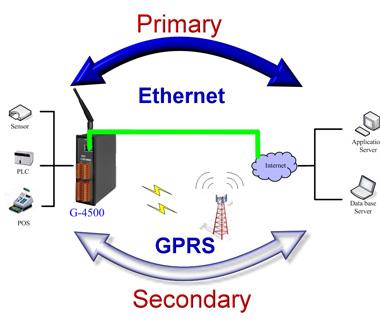 Embedded MiniOS7, anti-virus
Supports a variety of TCP/IP features, including TCP, UDP, IP, ICMP, ARP
10/100Base-TX Ethernet Controller
COM port: COM1 (5-wire RS-232), COM2 (RS-485), COM3 (3-wire RS-232)
Built-in self-tuner ASIC controller on RS-485 port
I/O: 3 channel DI, 3 channel DO, 8 channel AI
Support SD storage card
GPRS/GSM: Quad-band 850/900/1800/1900 MHz(option)
Support TCP server, TCP client, UDP client connection from GPRS
GPS : 32 channels with All-In-View tracking (option)
128*64 dots LCM display (only for G-4500D-2G and G-4500PD-2G)
Support Virtual COM technology
Support Modbus Protocol
High reliability in harsh environment
Free easy-to-use software development toolkits
Specifications
Digital Output

Output Channel
3
Output Type
Open Collector (Sink/NPN)
Load Voltage
+30 VDC max.
Load Current
100 mA max.
Isolated Voltage
Non-isolated

Digital Input

Input Channel
3
Input Type
Source(Dry Type), Common Ground
Off Voltage Level
+1 V max.
On Voltage Level
+3.5 ~ +30 V
Isolated Voltage
Non-isolated

Analog Input

Input Channel
8
Resolution
12 - bit
Input Range/Type
0 ~ 20 mA
Sample Rate
1 KHz max. (Read one channel)
CPU
80 MHz internal microprocessor
SRAM/Flash
512K/512K , real time clock, watchdog timer
NVRAM
31 bytes, battery backup, data valid up to 10 years
EEPROM
16 KB, retention > 40 years. 1,000,000 erase/write cycles

Comm. Interface

COM ports
COM1:5-wire RS-232; COM2: RS-485; COM3:3-wire RS-232
Ethernet
10/100 Base-TX Ethernet controller

GPRS Interface

Frequency Band
Quad-band 850/900/1800/1900 MHz
GPRS connectivity
GPRS class 10/8; GPRS station class B
DATA GPRS
Downlink transfer: Max. 85.6 kbps; Uplink transfer: Max 42.8kbps
SMS
MT, MO, CB, Text and PDU mode

GPS Interface

Support Channels
32
Sensitivity
Tracking = up to -159 dBm (with external LNA)
Cold start = up to -146 dBm (with external LNA)
Acquisition Time
Hot start (Open Sky) = 2 s(typical)
Cold start (Open Sky) = 36 s(typical)
Protocol Support
NMEA 0183 version 3.01

LCD Interface

General
Effective display area
-
Module Dimension
-
Life Time
-

Power

Protection
Power reverse polarity protection
Frame Ground Protection
ESD, Surge, EFT, Hi-Pot
Power Requirement
15W; Unregulated +10 VDC ~ +30 VDC
Power Consumption
Idle: 75 mA @ 24 VDC; Data Link: 150 ~ 400 mA (peak) @ 24 VDC

LED Indicators

System
Red
GPRS
Yellow
GPS
Yes

Mechanical

Casing
Metal
Dimensions
47 mm x 142 mm x 168 mm (W x L x H)
Installation
DIN-Rall and Wall mount

Environment

Operating Temperature
-20 ~ +70 °C
Storage Temperature
-40 ~ +80 °C
Humidity
5~90% RH, non-condensing
Customer Reviews (0)
Be the first to leave a review.