Industrial Data Communications
The ICP DAS USA industrial data communications products allow for communication and conversion between various protocols. We provide converters, gateways, device servers, switches, and communication boards. Click Here for Our Data Communications Presentation
ICP DAS USA Serial to Ethernet and Modbus RTU to Modbus TCP Converters allow you to have your devices communicate across protocols. We offer Programmable 40 Mhz CPU 10 Base T Ethernet converters, Programmable 80 Mhz CPU 10/100 Base T Ethernet converters, Non-Programmable PoE 10/100 Base TX converters, and Non-Programmable PoE 10/100 Base TX Modbus RTU to Modbus TCP converters.
ICP DAS USA provides USB Converters that function as signal conversion from USB to RS-232/422/485 or CAN industrial data communication. We also provide Industrial USB Hubs. Our USB converters are made of Fire Retardant Materials (UL94-V0 Level). We have serial to USB converters, RS-485 to USB converters, RS-232 to USB converters, and RS-422 to USB converters.
The ICP DAS MDC-700 series is a Modbus Data Concentrator that can perform up to 200 Modbus RTU commands to read and write to and from Modbus slave devices via RS-232/RS-485. They allow up to 8 Modbus TCP masters to directly read and write data via Ethernet through on board shared memory and are configurable and accessible over a web browser. MDC-700 Modbus Data Concentrators make the data on the RS-232/RS-485 sharable to multiple Modbus TCP masters and greatly reduces the time to read and write data to and from multiple Modbus RTU slave devices.
The UA-5000 is a series of data acquisition controller and also an IIoT communication server by ICP DAS (IIoT: Industrial Internet of Things). The UA-5000 built-in OPC UA Server and MQTT Client Service supports a variety of common industrial communication protocols. The small size of the RISC-based CPU processor offers the advantage lower power consumption as well a dimension size that allows for fitting these device in small spaces thus eliminating equipment clutter. In the hardware provides a various forms of connectivity through different protocols, such as Gigabit Ethernet, USB, RS-232 and RS-485.
Our robust Ethernet/IP to Modbus Gatways can help with data-exchange between the Modbus RTU network and the EtherNet/IP network. They read the register data from the Modbus RTU slaves and publish this data to the input register data of the EtherNet/IP scanner.
These products provide a industrial data communication transformation between J1939 protocol and Modbus RTU protocol. We provide Utility software for users to configure the parameters of J1939 / Modbus RTU of GW-7228. The application fields can be Diesel power-train applications, In-Vehicle networks for trucks and buses, etc.
The HART (Highway Addressable Remote Transducer) is a master/slave protocol which provides for up to two masters. The secondary master can be used to monitor/control the information of the HART bus. HART can be used in various modes such as point-to-point or multi-drop for communicating information to/from smart field instruments and central control or monitoring systems.
No risk solution for enhanced field communication
Compatibility with standard 4-20mA wiring
Simultaneous transmission of digital data
highly accurate and robust protocol
Increases plant availability
Reduces maintenance costs
Improves regulatory compliance
ICP DAS offers a broad range of fiber optic to ethernet converters, in both metal and plastic form factors; as well as multitude of configurations. All converters are capable of 10/100 BaseT and 10/100 BaseFX communication.
Our Modbus Converters and modbus gateways convert Modbus to different protocols to bring you flexibility for your applications. We also have Intelligent Modbus RTU to Modbus TCP converters. Our Modbus converters and modbus gateways allow communication from Modbus to CANopen, Profibus, DeviceNet, and J1939.
Industrial Ethernet Switches are often used in control panels or in industrial machines for Ethernet communication. They allow multiple Ethernet devices to communicate with each other. We provide a large selection of Industrial Unmanaged Ethernet Switches, in both metal and plastic cases; offering users cost-effective solutions for implementing industrial control and data acquisition over a local area network. Unmanaged Switches are ideal for data applications where no switch management is necessary. They are plug and play devices and no configuration is required. These Ethernet switches are very robust in harsh industrial environments and they can survive in temperatures as low as -40C and as high as 85C.
The Controller Area Network (CAN) is a serial communication protocol, which efficiently supports distributed real-time control with a very high level of security. It provides the error process mechanisms and message priority concepts. These features can improve the network reliability and transmission efficiency. Furthermore, CAN supplies the multi-master capabilities, and is especially suited for networking intelligent devices as well as sensors and actuators within a system or sub-system.
ICP DAS USA provides CAN Communication Converters for converting one type of signal into another. We offer many types of CAN Converters including: CAN to Ethernet, CAN to Fiber, CAN to Modbus RTU, CAN to RS-232, CAN to RS-485, J1939 to Modbus RTU, CAN to Modbus TCP and more.
DeviceNet is a low level network that provides connections between simple industrial devices (like sensors and actuators) and higher level devices (like controllers). DeviceNet has Master/Slave and Peer to Peer capabilities. DeviceNet Gateway is capable of brokering communication between DeviceNet protocol hardware, and ICP DAS DCON protocol hardware.
Industrial Ethernet Layer 2 Managed Switches that secures data transmission by using fiber optics transmission to provide immunity from EMI/RFI interference. They are the perfect solution for applications where transmission must be protected from electrical exposure, surges, lightning or chemical corrosion.
ICP DAS USA provides a variety of RS-232 / RS-422 / RS-485 converters to meet almost any signal conversion you need!
BACnet is a communications protocol for building automation and control networks. BACnet was designed to allow communication of building automation and control systems for applications such as heating, ventilating, and air-conditioning control, lighting control, access control, and fire detection systems and their associated equipment. The BACnet protocol provides mechanisms for computerized building automation devices to exchange information, regardless of the particular building service they perform.
BACnet Features

In compliance with ANSI/ASHRAE Standard 135-2008 or ISO 16484-5
A completely non-proprietary open communication software standard
Supports various physical and link layers (BACnet/IP, Ethernet, ARCNET, MS/TP, PTP and LonTalk)
All data in a BACnet system is represented in terms of "objects", "properties" and "services"
Scalability and choice of compatibility with other systems and vendors
ICP DAS USA provides Industrial Managed Ethernet Switches for your industrial data communication needs. Our switches detect and recover from a fiber or copper link failure within approximately 50ms which helps applications achieve a seamless process.
PROFIBUS (PROCESS FIELD BUS) which is anchored in the international standards IEC 61158 and IEC 61784 is an open, digital communication system with a wide range of applications. It is particularly used in the fields of factory and process automation. It is suitable for both fast, time-critical applications and complex communication tasks.
To utilize this powerful communication system more easily, ICP DAS provides PROFIBUS DP products. We have been developing and studying PROFIBUS DP for many years. ICP DAS will always secure your industrial safety and stable automation systems as our mission.
FRnet is an innovative industrial field bus offering high-speed deterministic I/O control, real I/O synchronization capabilities, non-protocol communication, and easy programming. The ICP DAS FRnet line of products offers cutting edge technology for high speed data acquisition applications!
CANbus (Controller Area Network) Communication Boards are for serial communication protocol, and efficiently support distributed real-time control with a very high level of security. In CAN networks, there is no addressing of subscribers or stations in the conventional sense, but instead prioritized messages are transmitted.
ICP DAS USA conveniently offers remote maintenance devices so you can maintain your devices remotely. Two major networking technologies are utilized: Voice streaming and Pair connections. Pair connection means the user can operate remote COM port devices via Ethernet TCP/IP protocol just like a local COM port. Voice streaming means the user can talk to remote operators while operating remote COM-linked devices.
Our Digital Addressable Lighting Interface (DALI) products are widely used in the lighting control industry. We provide communication gateway between Modbus RTU / DCON and DALI (Digital Addressable Lighting Interface) protocols.
ICP DAS USA provides IR Controlled Relay Modules designed for the power control of various appliances. They can be controlled via a wireless IR remote control, as well as other control methods. The ICP DAS USA IR Controlled Relay Modules can be used with Modbus master devices and I/O devices for remote control and monitoring for building automation and home automation.
ICP DAS USA provides Profibus DP to Fiber Optic converters for data communication.
ICP DAS USA provides Profibus repeaters for you to extend the range of your PROFIBUS devices.
ICP DAS USA provides Profinet converters which allow users to take RS-232 / RS-422 / RS-485 serial devices such as serial remote I/O devices, sensors, actuators, HMI, barcode readers and RFID, etc. to a Profinet network.
The PDS-700 series is a family of Programmable Device Servers, also known as "Serial-to-Ethernet gateway", that are designed for linking RS-232/422/485 devices to an Ethernet network.
The PDS-220Fx series is a family of Programmable Device Servers, also known as "Serial-to-Ethernet gateway", that are designed for adding optical fiber connectivity to RS-232/422/485 devices.
The fiber-optic communications permits transmission over longer distances than other forms of communications because of the signals travel along them with less loss and no crosstalk. It has following important features: Immunity to electromagnetic interference (EMI) — Motors, relays, welders and other industrial equipment generate a tremendous amount of electrical noise that can cause major problems with copper cabling.
Our Wi-Fi converters add Wi-Fi capability to different protocol types. It connects the LAN wireless network with the Ethernet network.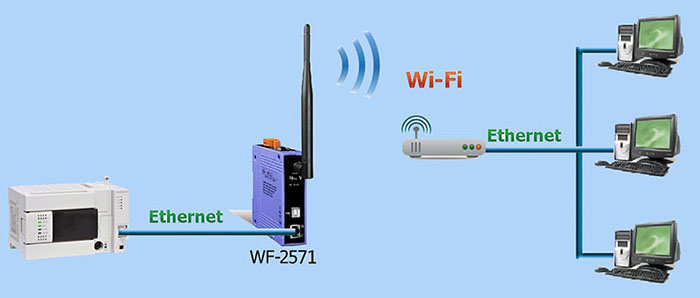 ZigBee is a specification based on the IEEE 802.15.4 standard for Wireless Personal Area Networks (WPANs). ZigBee operates in the ISM radio bands and is an open, global, and inexpensive network for industrial control, embedded sensing, data collection, smoke and intruder alarms, building automation, and home automation. A ZigBee network consists of 3 different types of ZigBee wireless devices: Master, Router/Repeater and End Device. We provide ZigBee converters, ZigBee repeaters and ZigBee I/O modules. Our ZigBee data acquisition I/O products can be used with our FREE EZ Data Logger Software for data logging and monitoring. All our ZigBee wireless products are compliant with the Zigbee Alliance Standard.
Click here to shop by tables
FREE EXPERT TECHNICAL SUPPORT
1-888-971-9888 or 1-310-517-9888

Sales & Support 7am-5pm PST
Call for OEM & Volume Pricing